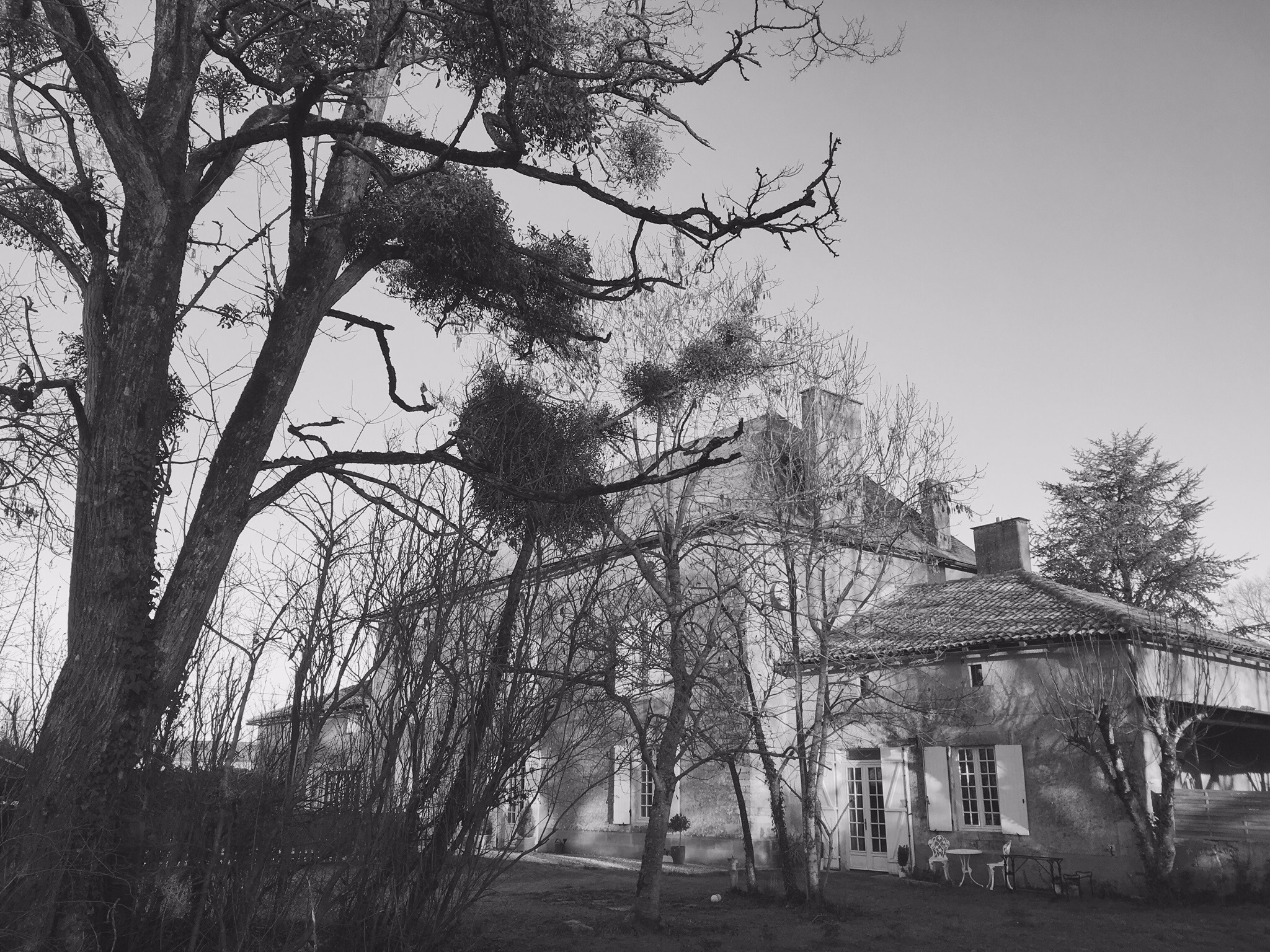 Tales from Nouvelle-Aquitaine #79
www.lelogisdelimalonges.fr
" Le silence du couvre-feu, sauf pour une chouette"
The silence of curfew except for an owl…
The depths of mid-winter bring a seasonal silence to our village. A complete opposite from the Summer months where families are heard laughing and chatting long in to the evening which now seem a distant memory. More so now than ever.
France had returned to a curfew from six o'clock in the evening until six o'clock in the morning in an attempt to stop the further spread of the Coronavirus. The curfew is something that has not been imposed since the dark years of the Second World War. Attestations would need to be filled out if anyone needed to be out and about during these times for work or medical reasons.
I closed the entrance gates and noticed how quiet it was. Moments later an owl screeched from the guttering above our house breaking the silence.
With the shutters closed I returned to the warmth of our dining room with the fire roaring full of hopes for brighter days and eventually, Spring.
The next morning it was Krysia's birthday. An email pinged in my inbox from our booking site to inform us that our rating for 2020 was 9.9 out of 10 for the third year running. We are extremely proud of this especially given the lengths we had gone to to make our guests stay as safe as possible during these times of difficulty for all. We are glad to know our guests appreciated our efforts. Thank you all!
Krysia's birthday tapas was a small lunchtime affair in the spacious kitchen of our West Wing Gite. We had limited our number to six, (our friends Donna Matthew Laura & Pete) for a long lunch. The menu was full of tasty Iberian treats that Kry loves to cook ensuring our friends left replete. It felt an emotional afternoon given that we hadn't seen each other for what seemed an eternity; aware that they had to be home before the evening curfew and with so much yet to say to each other.
A few days later we were invited to our first Group video wedding reception… our hosts and friends Sax player Mark & Ena Norton had married that day in Hamburg, Germany wanting to share a glass of wine with a long list of friends. It was lovely to share some time with them as well as guitarist Lenny and drummer Mark with his wife Louise. I couldn't help but thinking this was the nearest we would get to playing a live show together for quite sometime. It was a lovely hour spent before Mark and Ena had to leave our video call to work their way through their list which I suspect went on long into the small hours. Congratulations again guys!
Haggis and the auld alliance…
We had managed another gathering of six for Sunday for lunch. Linda opened her bag and presented us with a haggis to for Krysia and I to enjoy the following evening. As it steamed away it got me to thinking about the close alliance between Scotland and France.
Historians amongst you will probably know that this friendly alliance existed between the two nations as far back as the reign of Charlemagne an ancient alliance dating far back to Philip I of France and Malcolm III of Scotland. The English Saxons had invaded France and plundered the sea coast, while the King was absent in Palestine fighting the Saracens. In his extremity Charlemagne applied for help to the Scots, who, by their proximity and animosity to England, were the most suitable to make a diversion, and draw the enemy from his shores. Perhaps during these times of change, things have in some ways turned full circle with regard to freedoms borders and what swims between the two.
Needless to say it was delicious. We couldn't manage it all, saving the other half in the freezer for another wintry evening.
And into February!
Pancake day or 'La Chandeleur' in France is celebrated on the 2nd of February. Traditinally 40 days after Christmas Day in the Catholic calendar commemorating the purification of the Virgin Mary and the presentation of baby Jesus to the temple in Jerusalem, which may explain why Christmas decorations are left up so long especially in the streets.
Here at home we are not that keen on sweet pancakes unless drenched in Gran Marnier or preferably homemade '44'. Krysia made savoury oven baked pancakes with lardons chickens mushrooms and garlic accompanied by several glasses of white wine.
The Sahara sands visit Limalonges….
Krysia opened the bedroom curtains and we had woken to a yellow sky, resembling something akin to an almost biblical end of days. Thankfully it wasn't. The overnight wind and rain had brought with it Saharan sand from the south depositing a fine layer of it on what would seem most of south western France.
Our friends Jane and Tony arrived for a morning coffee and a catch up. We agreed we couldn't wait for Spring to finally arrive and for the rain to stop. The conversation got around to thoughts of brighter days where we could all in turn host our own outdoor gatherings. But of course we would all just have to wait. That evening Krysia made 'Poule-au-pot' a whole stuffed chicken poached in broth with vegetables. (Based on a Rick Stein recipe from his book French Odyssey). This saw us through the coming days as the weather was still cold outside, but thankfully no snow!
In between jobs I had returned to researching the family tree our home here at Le Logis De Limalonges. A random internet search had provided me with an email address of a distant cousin of one of the Brothier family members that had lived here over a hundred years ago. The information he provided me with was exciting and also proved I had thankfully been researching the correct line.
It will be of no surprise that our house was occupied by officers of the German army during the Second World War. 1940-42 to be exact. Traces of ancient paraffin stains in our entrance hall and the indentations of heavy boots on our staircase would be a permanent reminder.
Like some of the English immigrants living here I wanted to find out more but have never asked our neighbours much about it purely out of respect. I had received an email from the Resistance museum in Thouars who hadn't any specific information on our house but had put me in touch with Claude Gadioux who is Chairman of the Sauzéen committee of the National Association of Resistance Veterans (ANACR) who organises memorial marches and gives educational speeches in local schools.
There was a knock at the door Sunday morning. We didn't know who the gentleman was standing in front of us. He introduced himself. It was Claude. He explained he often drove past in the mornings seeing us walking Archie and would wave from his car. (We wave to everyone)!
Claude seemed impressed with what I had already discovered and told me more of the history. Moreover, he was happy for me to ask any questions as it was his father who was the leader of another resistance group in our area.
Claude told me there was a local resistance group named Jean-Paul who operated in Limalonges and Montalembert. One member of which was named Stefan Kucharik who worked by day at the old sawmill in Limalonges and acting as a Maquis by night. He confirmed it was the house opposite us. It is incredible to even begin to comprehend the danger of operating so close to an occupied house.
Of course, this was happening across France during those dark years. It was also fascinating to discover that Henri Rol-Tanguy had hidden at another farm here in Limalonges organising local groups of Maquis before eventually leading the liberation of Paris.
There is a lot to be learned from these brave men women and children.
Until next time….
à votre très bonne santé! x 🇫🇷🍷🍷❤🇪🇺
Paul & Kry x
Le Logis De Limalonges
Information on our three self catering Gites including photo gallery and booking info plus previous episodes of our blog can be found here:
www.lelogisdelimalonges.fr
General enquiries and all Gite information can be found here:
http://www.booking.com/Share-vOQjwy
Our monthly column in new lifestyle magazine Heyday can be found here:
https://heydaymagazine.co.uk/2020/07/16/la-vie-au-logis/