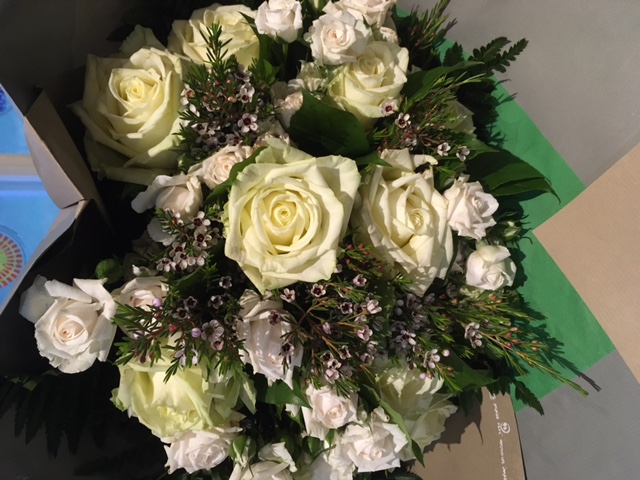 Tales from Nouvelle-Aquitaine #76
www.lelogisdelimalonges.fr
"The magpie thief of the Montalembert fogs"…
The wind was blowing up a storm. It seemed to be raining in all directions. I had managed to close the shutters on the upstairs windows before we dashed across the road to our neighbours Stan and Margaret where we would also meet up with friends Pete and Laura for dinner that Margaret was preparing. Their home was warm and toasty, we had a delicious four course meal with some very nice wine in the best of company as the storm continued to play out outside. These then, surely the best evenings of Autumn. Indoors and amongst friends.
I had heard there was a record fair Sunday morning in nearby Sauze Vaussais. I dismissed it at first, what with the ongoing dismal weather. I found the thought of finding some obscure French Jazz album just too tempting to pass up. I parked up to discover that there was a queue resembling more a queue for a doctors surgery than record fair given everyone was wearing a mask. A sign of these times and good to see.
I found a great Modern Jazz Quartet album (from 1956 for those wondering) and carried on looking around. I saw couple of boxes of reggae and ska and couldn't resist a sift through for old times sake. Two guys next to me appeared to be ska fans sifting through a similar box next to me. I spotted a great sixties album and pointed it out to them.
"C'est un bon album" I said, gesturing at the sleeve.
They thanked me giving me a double take as I walked away. Shame it wasn't a record I had played on but on second thoughts just as well really, as most records at these fairs are second hand meaning that someone didn't want them anymore. I walked out into the rain and one of the young guys waved to thank me with the album tucked under his arm. Always nice to pass on the baton when it comes to music. From behind my mask I smiled and nodded…. took me back a bit, that.
It's that time of year again here in France where families dust down their trusty Raclette machine. In our case we bought our first today.
Autumn is all about Raclette or choucroute. For the uninitiated, Raclette is delicious hot melted cheese poured over charcuterie potatoes and accompanied by petite cornichons. Choucroute is sauerkraut with smoked sausage, smoked ham and boiled potatoes. Of course, there will be regional variations but we were more than happy with our Raclette of smoked cheese and morbier cheeses bubbling away in their own individual little pans before pouring them onto rosette salamis and cured ham.
The potatoes were warmed through in a pan on top of the Raclette cooker with butter and cracked pepper. A few glasses of St. Estephe too as the logs crackled in our open fire. What a perfect evening!
A link in a local history forum online led us to the story of "The Magpie thief of the Montalembert fogs" a very sad but interesting tale of Almedois, the favourite chamber maid of Demoiselle Adélaïde, who lived in the ancient chateau of Montalembert with her pet dog Pallas and pet magpie, Margot.
This sad story was made into an opera by Rossini. Curiousity getting the better of me I played the score on YouTube. Recognising a section in the middle of it.
That would make a great quiz question… "what does the village of Montalembert, Stanley Kubrick and composer Rossini have in common?"
An abridged version of 'The Thieving Magpie' can be heard in the 1971 film 'A Clockwork Orange' by Stanley Kubrick. I bet he never even knew where Montalembert was. Though with his eye for exacting detail somehow it wouldn't surprise me if he did.
I won't spoil the story but here is a link to it. Given Rossini's opera 'La Gazza Ladra' based on the story premiered in Milan in 1817 it could be about time someone wrote a screenplay and turned it into a film…
Our autumn guests had arrived and we were delighted to see them. Knowing they were on their way we lit the log burner in our East Wing vite to make it nice and cosy upon their arrival. Marcel & Michelle used to live across the road from us when we first moved here. In fact they were the first of our neighbours to greet us and we struck up an instant friendship and have remained very good friends, so naturally it is always a pleasure to have them stay.
Early the next morning a large truck arrived. It was Jo who had come to insulate our loft. We had taken up a government scheme to insulate our loft for 1€. He explained to me that it would have normally cost just under four thousand euros to do, but the heavily subsidised scheme meant we only had to pay the nominal sum of a Euro to effectively pay for the receipt and attestation of works carried out.
We had cleared the loft of our own storage as well as two very heavy old sprung beds that immediately went into my trailer and off to la déchèterie. We would have to go through the boxes we put in one of the bedrooms downstairs and do some early spring cleaning another day.
I had offered to help carry the insulation upstairs but Jo wasn't having any of it. In no time all forty seven rolls were laid out perfectly into our loft providing a covering of around thirty centimetres depth. That should help keep the warm in the house this winter, in fact we have already began to notice the difference as the days start to get a little shorter and cooler. With paperwork signed we gave Jo the one Euro payment and a bottle of Bordeaux for him and his wife to enjoy that evening. Ça marché!
Dee had arranged to collect us both by car that evening for dinner at her and Matthews' house just off the old RN10 road some ten minutes away. She was to cook dinner too. We hadn't seen them for quite a while so this was extremely kind of them to have us. An evening of four courses (homemade onion bhajia, seafood stir fry, fromages followed by a delicious rice pudding) was accompanied by our favourite Margaux and Pomerol wine set out on a beautiful linen draped table.
It was a wonderful night of hilarity and bestest company as always. Dee had worked so hard that evening and drove us home too which was super kind. I must admit it took a few hours the next day to shake of the morning fog in my head which I affectionately call the Margaux 'fuzz'.
Marcel & Michelle had very kindly arranged 'un apéro' and asked us to join them Sunday evening in their East Wing Gite. It was a lovely surprise as our neighbours Jocia & Philippe had been invited too. Plates of tasty French toast with smoked salmon, pate and saucisson were laid on the table as Michelle poured one of her homemade 'Ponche' (chilled dark rum and pineapple). It was a real treat to spend time with them.
Monday morning and Jocia invited Kry and I at Philippe's request to see them make the second pressing of the grapes that had been harvested just under a fortnight ago. Jean-Jacques arrived on his tractor which was pulling a large trailer with a huge wine press on the back. This was assembled at a slight angle so when the grapes were pressed the juice would flow out of the bottom and through a funnel into a bucket which would be pumped into vats. After an hour the pressing was completed. They guys had worked hard slowly turning the heavy block on the large thread that sank deep into the barrel. Metal straps that surround the wooden press were undone to reveal a solid compressed round purple block of grape and stalks rich in colour. This was now waste material as all the juice had been removed.
"Voila!" Said Philippe. "C'est vin traditionnel".
If the delicious scent was anything to go by, despite everything else going on in the world, this could be a good vintage. We shall see.
Our friends Nico & Lulu sent us a message that evening; they were very excited to share the news that they had finally found their dream car after searching for some years. They had attached photos of a beautiful 1926 Citroen B14 Limousine! To be honest I had never seen one before so we arranged to go and have a look the next morning. Nico showed us the restoration photos of the car that he had been given. It had been fully restored from a chassis and is a truly beautiful car and we are absolutely delighted for them. Though Nico's mask was covering his smile his eyes said it all.
"C'est parfait pour une balade du dimanche " he said.
We couldn't agree more!
Early the next morning our doorbell rang. I pulled back the curtains and it was the lady from our local florist. I was handed the most beautiful bouquet of roses along with a bottle of champagne. Krysia opened the card and it was from Marcel and Michelle thanking us for their stay. We were both very moved by such a wonderfully thoughtful gesture. They may have moved away but are close to us in our hearts.
It's the kindest of gestures like these in these times that are cherished even more than ever.
Until next time….
à votre très bonne santé! x 🇫🇷🍷🍷❤🇪🇺
Paul & Kry x
Le Logis De Limalonges
Information on our three self catering Gites including photo gallery and booking info plus previous episodes of our blog can be found here:
General enquiries and all Gite information can be found here:
Our monthly column in new lifestyle magazine Heyday can be found here: