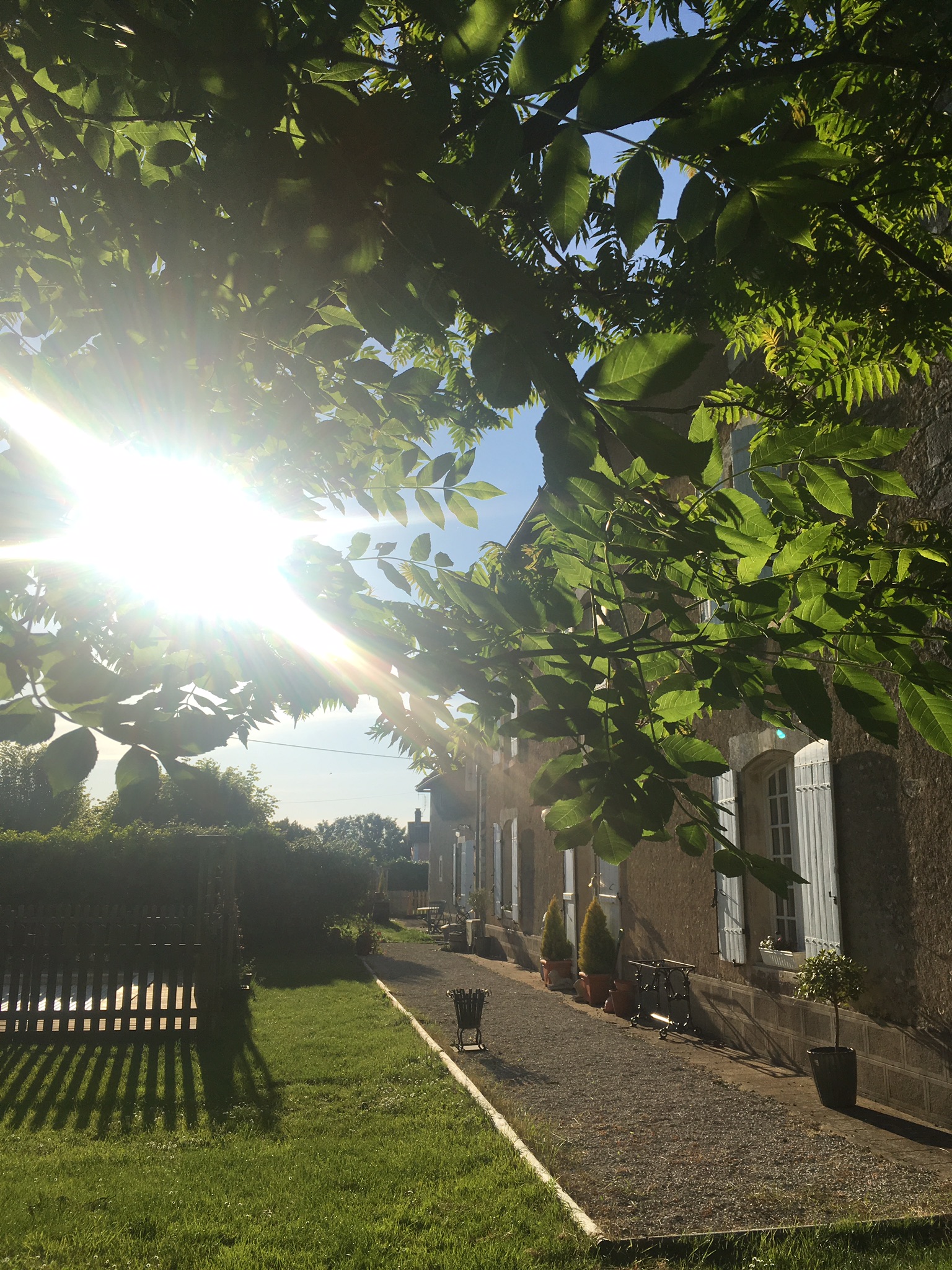 Tales from Nouvelle-Aquitaine #70
www.lelogisdelimalonges.fr
"Ménage a cat!"
Forgive my Franglais subtitle. Let me explain.
I was taking in the evening air. I really was. It had been a hot day.
We had done great works at rebuilding some of the fallen dry stone wall. At the risk of avoiding more falling down we decided to build a section in front of the hole shoring up the badly bowed sides.
Anyway, I digress.
I was going to the gate to see the sunset and have a look at the world outside, but I heard a noise.
No, it wasn't the toads as I mentioned last time, this was a low growl.
I backtracked to the edge of the west wing hedge and couldn't believe my eyes.
Not much shocks me these days, but I was a bit taken aback!
Under our freshly painted chairs was wedged – quite happily, 'mumma' cat (we are sure Simone's mum) and on top of her was a black cat performing an age old ritual.
What really surprised me was our neighbour Eric's cat Zouzou sitting patiently staring at me, then decided to submissively lay down on one side as if to say "nothing to do with me, mate"!
Hardly gentlemanly behaviour!
I scuffed the gravel to call a halt to this early evening orgy. To my surprise, another black cat had been laying aside all three cats. Christ knows what that was all about. The main protagonist cocked me a snook (pardon the expression if you will) and walked off nonchalantly, spraying on the old wine barrel by the fence and left.
I mean, I wouldn't mind, but it's our garden for goodness sake and no attestation paperwork filled in neither! Another two steps forward saw them disappearing in all directions at speed. The toads just carried on croaking.
"Un trésor à la vue de tous !"
Ah, the eternal prospect of finding treasure here at Le Logis and I'm not the first.
Treasure in plain sight!
We had decided that an old blue oil drum created decades ago as a flower planter had to go.
"It shouldn't take long" I said to Kry.
We both laughed knowing the DIY adage that any job deemed to take ten minutes will in fact mean a far longer job.
Three shovel loads in and this was indeed proving a far grander job and required what we affectionately call 'the big one'. A six foot heavy iron pole painted in a fetching yet worn French blue coat of paint (bien sûr!) that was brought out from the garage, still with thoughts of levering out the half tub in no time.
Mais Non!
This round pot was clearly larger and deeper in the ground than we had first thought. Could this be the entrance to one of the ancient tunnels that we had heard about? A person could easily fit down there… besides, these tunnels originated from the Napoleonic times… and may well have been used by the Resistance. I was getting quite excited.
It still wasn't budging. No Sir. Not an inch.
Then, with a bit of brute force it started to move. It must be a tunnel entrance, there seemed to be a void below. The pole all but disappeared in the ground at one point. We both looked at each other, clearly now convinced we were on to something. None of the previous owners of Le Logis (at least to our knowledge) had found any treasure despite fruitless attempts.
This then, was our moment.
One more attempt, with me standing on the end of the pole for extra leverage sweating like a cart horse then suddenly, the earth gave way, revealing the treasure below…
It was a 1950s Bendix washing machine.
More rubbish to add to the increasing pile pour la déchèterie !
Well, you have to laugh. And we did. The mystery of course, remains to who put it there. It certainly has us going for a while.
With lots of flowers blooming in the gardens, Kry turned our thoughts to making pink rose flower petal cordial and Elderflower champagne.
The rose petals were gathered washed and added to a sugar and lemon syrup, left for 24 hours and put into sterilised bottles, to be added to gin, vodka or a Champagne of your choice!
The Elderflowers yielded a good crop this year and were again picked washed and added to lemons water and sugar and left to ferment for five days using the natural yeast in the Elderflowers in a sterile container.
This was then decanted into two gallon containers but only filled half way up to allow for a second fermentation… all being well this would be ready by mid June.
Friday The 8th of May. We had decided to put up the French tricolore and the Union flag on the front gates to mark the 75th Anniversary of the end of the Second World War and more importantly 75 years of peace in Western Europe at least.
The irony wasn't lost on us of seeing old news footage on television.
Thousands of people gathered in the streets of London celebrating the end of six years of hostilities, as today our streets towns and cities remained largely empty doing our best to avoid this invisible enemy.
Talking of London, there was exciting news that a short film project I had been asked to act in had been completed and was now online to share.
Titled 'The Little Giant', set in 1967, this film depicts a week in the life of one of the greatest Jazz saxophone players Tubby Hayes. The script was written by Simon Spillett. I was very humbled to have been asked to dare tread in the footsteps of such a musical legend. Especially with such a great cast. There is more than a passing resemblance between him and me, so I'm told. 
It was a great couple of days filming in Soho a couple of years ago under the Direction of Lee Cogswell and Producer Mark Baxter for MonoMedia films.
The project was kept quiet and has been a surprise to many and has begun to get some good feedback and reviews. I must thank the amazing acting talents of Charlie Carter, Cassandra French and Alexis Saunders.
For those who haven't seen it yet I'll leave the link here.
http://monomediafilms.london/news/
The garden beckoned along with the news that la déchèterie was open without need to book un rendezvous. It was time to hitch up the trailer and get rid of the large white sacks full of brambles weeds and other assorted bits and pieces. A cathartic process In itself with the added reward of driving home in the sunshine with the gentle warm breeze blowing in through the windows.
The first of many trips, of course!
And it's pool time…. well, virtually.
Our qualified pool guy Geoff came to get the pool up and running for Summer after it was closed last September which seems even longer ago given the lockdown. New sand in the filter and an all round clean and in no time the pool was back sparkling and ready for use, by us at least.
We have taken the very difficult decision that even if tourism does reopen in France we will remain closed for the time being.
At the end of the day we believe it's more important to keep ourselves, our friends, families and our fellow villagers safe.
Until next time….
à votre très bonne santé! x 🇫🇷🍷🍷❤🇪🇺
Paul & Kry x
Le Logis De Limalonges
Information on our three self catering Gites including photo gallery and booking info plus previous episodes of our blog can be found here:
General enquiries and all Gite information can be found here: